Paths of Apokoronas (Route 3)
Route 3:  Stone shepherd huts in the White Mountains
Frama - Profitis Ilias of Melidoni - Agio Pnevma of Pemonia - Agio Pnevma Fre - Frama
Total length: 10.6 km (the main route, 12.2 km with branches), estimated time 4h 50΄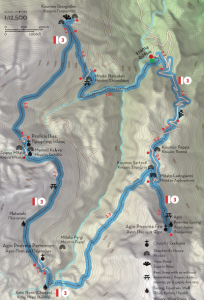 This route is circular (it starts and ends at the same place) and does not pass through any village, as it was designed to connect some of the most impressive shepherds' huts (mitata and koumi) of the White Mountains (Lefka Ori), using extensively old trails of light traffic, often known as "moularostrates" (mule paths). This route occupies the slopes between the hill Tria Korfalia and the peaks Agio Pneuma (2,262 meters) and Korda (1,611 meters) and has the advantage that the view changes constantly from slope to slope, allowing the hiker to become familiar with the natural and cultural landscape of the White Mountains without subjecting him or her to demanding altitude differences.
Route 3 starts from a location named Frama at an altitude of 660 meters. The only road that leads to Frama is from Melidoni (4 km away), although the route also crosses through areas that belong to the local communities of Pemonia and Fres. From Frama head southwest to Mitato Platsidaki, which you will meet at a distance of 1.5 km, at an altitude of 860 meters. From there the path continues northwest to Koumos Giorgioles (900 meters), from where you can enjoy excellent views of much of Apokoronas, from the Gulf of Souda to the Gulf of Almiros. Return through the same path for about 200 meters and turn right (southwest) at the next intersection, following another path that leads after 1.5 km to the church of Prophitis Ilias of Melidoni, at an altitude of 1,130 meters, where a festival is held every year on 19 or 20 July. At a short distance from the church it is worth visiting the two shepherd huts Apano Mitato and Memeti Kalyva, next to which you will find a source of fresh water.
From here the route follows another path that continues 1.7 km south to the church Agio Pnevma Pemonion (Holy Spirit of Pemonia), passing by the spring Platanaki (at about 2/3 of the route). At a short distance from Agio Pnevma you can visit Mitato Pyrgi (350 meters to the northeast), although the route continues south to the source Kato Nero (Hóses), crosses the stream and continues on the opposite slope of Mount Korda to Koumos Sartzetis and Mitato Ladogianni, where you arrive after 2.3 km. From here a path - branch of the main route leads after 600 meters to the church of Agio Pnevma Fre (Holy Spirit of Fres) and the homonymous spring, at an altitude of 1,140 meters. Alternatively, you can descend to Koumos Pappa (about 400 meters from Mitato Ladogianni) and from there to Frama (2.2 km), completing this beautiful circular route at the upper valleys of the Lefka Ori, also known as "Madára".
Source: Municipality of Apokoronas (2022)