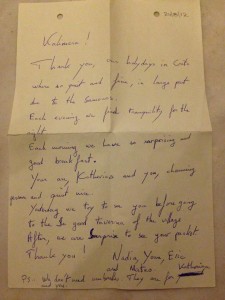 Kalimera!
Thank you, our holidays in Crete where so quiet and fine, in large part due to the Samonas.
Each evening we find tranquility for the night. Each morning we have so surprising and good breakfast.
You are, Katherina and you, charming persons and quite nice. Yesterday we try to see you before going to the so good taverna of the village. After, we are surprise to see your packet.
Thank you!
Nadia, Yoam, Eric and Mateo